SFBAJGS Transcriptions Project
---
Transcription work at SFBAJGS
Join Us!
If you are interested, contact Jeff Lewy, our Transcriptions Coordinator
transcriptions@sfbajgs.org

The transcribed materials created by SFBAJGS are not for commercial use and carry no restrictions on their non-commercial use or attribution except those issuing from the original source.
Finding Aid
SFBAJGS Projects
Beth Israel Salem Cemetery
Background
Data & Links
Sinai Memorial Chapel
Eternal Home handwritten ledger
Eternal Hometyped ledger
Sherith Israel burial permits
Home of Eternity, Oakland
x
JewishGen Online Worldwide Burial Registry (JOWBR)
The JewishGen Online Worldwide Burial Registry (JOWBR) is a project to document online all extant Jewish cemetery and burial records, worldwide. This goal may never be fully achieved, but the results to date and its continuing progress represent an amazing resource for all genealogists seeking to document Jewish family history.
To date, more than 3.3 million records have been transcribed and uploaded for free use. These records come from cemeteries in 128 countries all over the world, many from countries you would anticipate such as Germany, Poland, the US, and Australia, and others you might not expect, such as Congo, Zimbabwe, China, Myanmar, and Peru.
To search the JOWBR records, including those SFBAJGS has contributed, go to: https://www.jewishgen.org/databases/Cemetery/
To learn more about JOWBR, go to:
https://www.jewishgen.org/databases/Cemetery/Submit.htm
SFBAJGS and San Francisco Bay Area transcripts
The members of SFBAJGS have already added more than 30,000 local Bay Area records from local cemeteries to JOWBR. We have transcribed the records at Home of Peace Cemetery, Hills of Eternity Cemetery, and Salem Memorial Park, all in Colma, California. We are now working on Eternal Home Cemetery in Colma, and Home of Peace Cemetery in San Jose, California. In addition to contributing these records to JOWBR, we also give copies of the digitized records to the cemeteries from which the written records came. In some cases, these transcribed records are the first digital records these cemeteries have for their early burials.
How They Do the Things They Do

July 1, 2019: Jeff Lewy prepares Eternal Home Cemetery Register of Burials.Note phone on spring-loaded arm and dual lights. Jeff is using a bluetooth remote shutter control.
Photos by Pierre Hahn and Jeff Lewy.
We are in the process of transcribing about 30,000 records from Sinai Memorial Chapel in San Francisco, which has handled burials in many of the Bay Area cemeteries, and a number of burials in other cities in the U.S. and elsewhere.
Over time, we hope to add records from many other Northern California cemeteries. We expect most of these records to be added to JOWBR. However, there are added data in many of these records beyond what JOWBR publishes. We maintain copies of the full burial information we receive from the cemeteries and can often provide more information on a particular burial than can be seen in JOWBR.
We have just started transcribing burial slips issued by Synagogue Sherith Israel in San Francisco from the 1860s and later. These burial slips may act as a substitute for the related death records before 1906 that were destroyed in San Francisco's 1906 earthquake and fire.
Polish cemeteries
We have also created an opportunity to document cemeteries far from home. From your contributions to SFBAJGS, we provide some funding to Kirkuty, a project in Poland run by Krzysztof Bielawski. Kirkuty's goal is to photograph Jewish cemeteries in Poland in their current state. In some cases, the cemeteries are well maintained – in others, they are just remnants following the depredations of the Second World War and after.
As an example, Mr. Bielawski photographed the more than 400 gravestones in the well-maintained New Cemetery in Szczecin, Poland (formerly Stettin, Germany.) He sent us the photos, and we transcribed the data on the gravestones, with help from other JOWBR volunteers. These data are now included in the JOWBR records. With continued support from our members, we expect to continue our relationship with Kirkuty, and may be able to add still more records to JOWBR.
Join us!
All of this work is performed by volunteers, and we can make more progress on these projects if we have more volunteers. We are always looking for people who can transcribe records using Microsoft Excel spreadsheets, and others who can do careful proofreading.
If you would like to help, contact Jeff Lewy, our Transcriptions Coordinator at transcriptions@sfbajgs.org. We would be glad to show you how to join our work!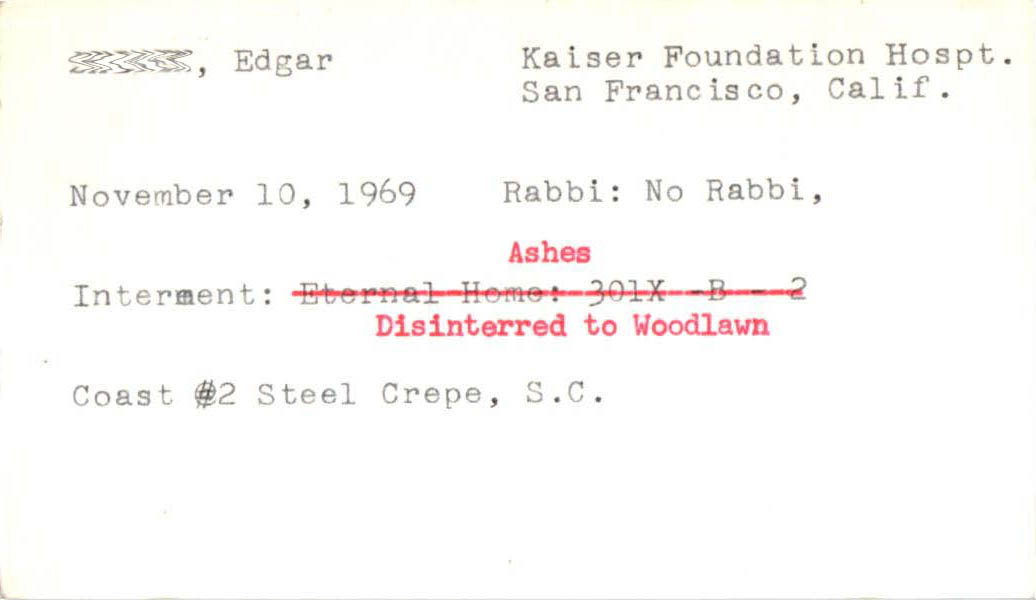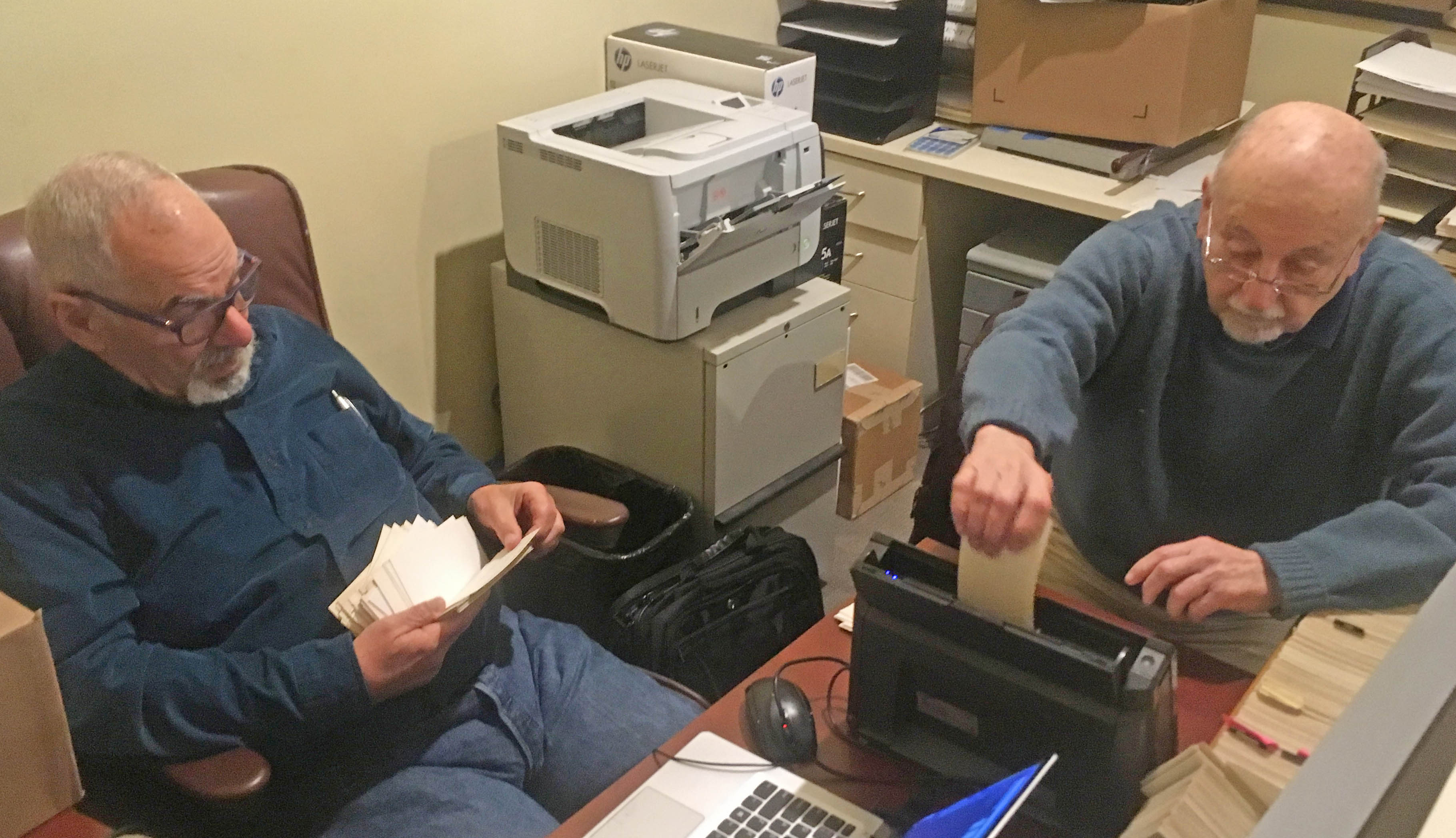 March 16, 2018: Jeff Lewy and Pierre Hahn scanning cards
---
Return to the Home of the SFBAJGS (San Francisco Bay Area Jewish Genealogical Society)
---
Copyright 2020 San Francisco Bay Area Jewish Genealogical Society